About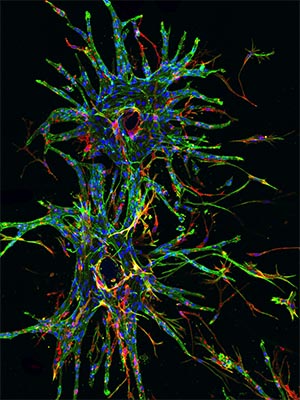 The Center for Regenerative Nanomedicine (CRN) fosters bold new research in regenerative medicine using nanotechnology strategies. The center is developing exciting programs designed to catalyze innovative research in regenerative nanomedicine, advance translation of technologies developed at Northwestern University, and build broad-based alliances with global leaders in this research arena.
The CRN was established in 2012 through a gift from the Querrey Simpson Charitable Foundation and is affiliated with the Simpson Querrey Institute for BioNanotechnology (SQI).
Priorities
The center's top priorities include:
Fostering high-impact translational science in any area of regenerative nanomedicine.
Supporting preliminary data acquisition for innovative research in the field of regenerative nanomedicine.
Advancing Northwestern University technologies applicable to regenerative medicine to the clinical trial stage.
Our Work
To accomplish its mission, the center sponsors CRN Catalyst Awards that promote vanguard research on regenerative medicine and it provides funding to develop and support SQI's core facilities, which enable this transformative research. CRN also co-sponsors events designed to connect the SQI community with other scientists at the cutting edge of regenerative medicine research.