Collaboration between Opal, Stupp laboratories lays foundation for large-scale NIH funding
A CRN Catalyst Award helped principal investigator Puneet Opal land subsequent grants from the National Institute of Neurological Disorders and Stroke (NINDS) totaling $4.5 million.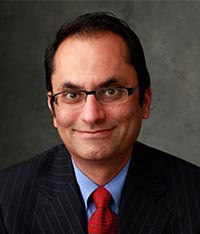 The Catalyst Award, first funded in 2013, represented a promising bridge between previous research performed in Opal's lab and in that of CRN Director Samuel Stupp. In 2011 the Opal group published a paper in Nature Medicine demonstrating a significant role for the vascular endothelial growth factor (VEGF) in a mouse model of spinocerebellar ataxia type 1 (SCA1), a genetic neurodegenerative disease. That same year, Stupp and colleagues published a study in PNAS showing that an injectable therapy containing VEGF-mimetic peptide amphiphiles (PAs) promoted angiogenesis in a peripheral arterial disease model.
"When I read Sam's work, I immediately realized that our groups were set up for a perfect collaboration," Opal said.  
SCA1 is a hereditary disease caused by mutations in the ataxin-1 protein. These mutations cause a reduction in the expression of VEGF, a protein that stimulates the formation of blood vessels. While the Opal lab had shown that replenishing VEGF improved the disease phenotype in mice, there were significant impediments to bringing a large molecule like VEGF to the clinic since it is expensive to manufacture and can provoke an immune response. The nanoparticle drug developed by the Stupp laboratory does not have these limitations, and each nanoparticle contains many peptide molecules that can activate the VEGF receptor in target cells.
With funds from the Catalyst Award, the two groups embarked on testing the nanoparticles once again in the mouse model of ataxia. This led to rapid progress and a successful five-year, $1.9 million grant from NINDS in 2013 to fund the project "Understanding the Cellular Basis of Movement Disorders."
In a 2019 publication in Brain, the groups showed that mice injected with these peptides perform as well as if not better than those injected with recombinant VEGF. This success was followed by an additional round of funding of $2.6 million that will allow the Opal group to further expand its research in understanding spinocerebellar ataxia.
"I really believe that such nano-based therapies will add a stable of drugs to treat neurodegenerative diseases," said Opal, who has filed a patent for this approach along with Stupp.