Proof-of-concept work supported by CRN expands collaboration network
The Center for Regenerative Nanomedicine (CRN) serves as a training ground for young scientists: graduate students or postdoctoral fellows who join CRN Catalyst Projects and gain experience in a variety of techniques for nanoscale research. Sometimes, a breakthrough by one of these researchers elevates a project and takes it in a new direction.
That was certainly the case with the cartilage regeneration work in the laboratory of Samuel Stupp, who published a paper in PNAS in 2010 showing the ability of a network of self-assembling nanofibers to promote articular cartilage regeneration in a rabbit study.
The Stupp lab used CRN funds over the next several years to continue exploring how peptide amphiphile (PA) nanofibers could repair cartilage defects, performing a series of experiments to improve upon the previously designed material. In 2015, PhD candidate Jacob Lewis formulated a new, slurry-like composite out of the nanofibers. This injectable hydrogel demonstrated the toughness and adherence necessary for surgical handling and implantation — a key step in demonstrating its potential for microfracture surgeries used to repair cartilage in the knee.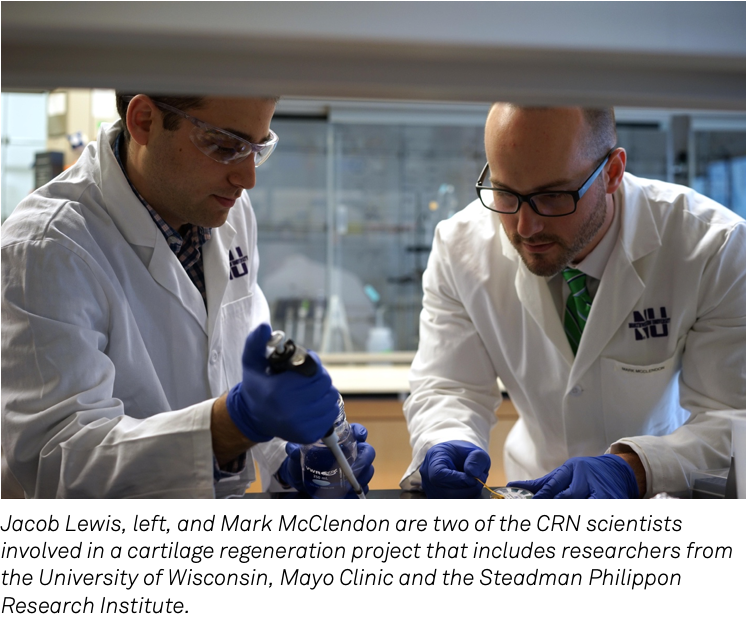 "Breakthroughs like our cartilage regenerating system are just the beginning of the scientific process of developing new technologies," Lewis said. "Since that initial discovery, we focused on learning to design a material that combines the bioactivity of our PA nanofibers with the chemical and mechanical properties needed for clinical success, bringing us closer to a robust system that can be effectively deployed by surgeons."
Using preliminary data from this new iteration of the nanomaterial, the Stupp lab attracted a gift from Colorado-based philanthropists Michael and Mary Sue Shannon. This gift provided the framework for the Shannon Collaboration Network, a group that includes biomedical engineers and veterinary medicine specialists from the University of Wisconsin, a biologist from the Mayo Clinic, and scientists and surgeons from the Steadman Philippon Research Institute (SPRI) in Vail, Colorado — namely Johnny Huard, Director and Chief Scientific Officer of the SPRI's Center for Regenerative Sports Medicine and Marc Philippon, orthopaedic surgeon and managing partner of The Steadman Clinic.
"In orthopaedics, regenerating cartilage is truly the holy grail," Michael Shannon said. "Dr. Sam Stupp's nanogel technology is vital to helping some of the world's best orthopaedic surgeons develop a way to overcome one of medicine's greatest unmet challenges. Northwestern is actively collaborating with leading research institutions in the Shannon Network, and this collaboration is leading to promising potential for patients."  
This interdisciplinary team soon plans to publish its first results showing the effect of the PA nanofiber paste on cartilage regeneration in knee microfracture surgery in large animals. Philippon, one of the world's leading orthopaedic surgeons known for joint preservation techniques, is helping validate the use of this nanofiber implant for arthroscopic hip procedures. The researchers foresee these materials being broadly applied by surgeons to accelerate cartilage repair in all joints.
"I've been blown away by the incredible results we've already seen in these studies," Huard said. "The field of cartilage repair is desperate for the type of nanomaterials being designed at Northwestern, and I'm excited to see these bioactive implants translated into a real-world setting."